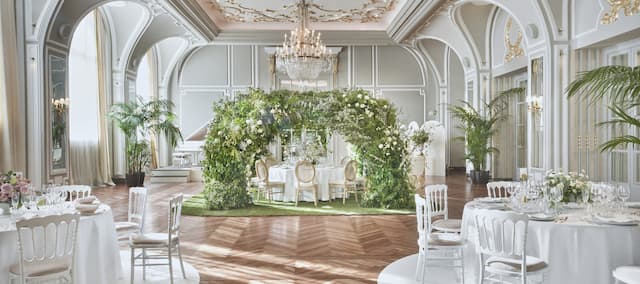 Madrid
General
9am - 7pm (Mon-Fri)
Wedding Planner
mrmad-events@mohg.com
Your incredible journey begins here
Situated opposite Jerónimos Church, Mandarin Oriental Ritz, Madrid is the traditional venue of choice for the Royal Family and Spanish high society. Many generations of families have celebrated at the hotel, which has become a much-loved destination for weddings and celebrations. As well as hosting the reception, the hotel invites brides to make the most of our wellness facilities, enjoying essential pampering in the months, weeks and days leading up to the wedding. The Bridal party are also invited to reserve a suite on the wedding day to provide somewhere elegant and relaxed to get dressed and prepare. The couple can spend their wedding night at Mandarin Oriental Ritz, Madrid, thereby beginning married life in true style.
We understand how important it is for your day to be perfect and we will do all we can to ensure that it is so. All couples will enjoy the services of a dedicated wedding planner, who will help you design the day of your dreams. Our wedding experts enabe us to create a wedding that is truly personalized and outstanding.
Acclaimed Chef Quique Dacosta expresses his culinary creativity in an extensive array of menus to cater to the most discerning of palates.