Geneva
Royal Penthouse
Royal Penthouse
Among the most exclusive hotel suites in Geneva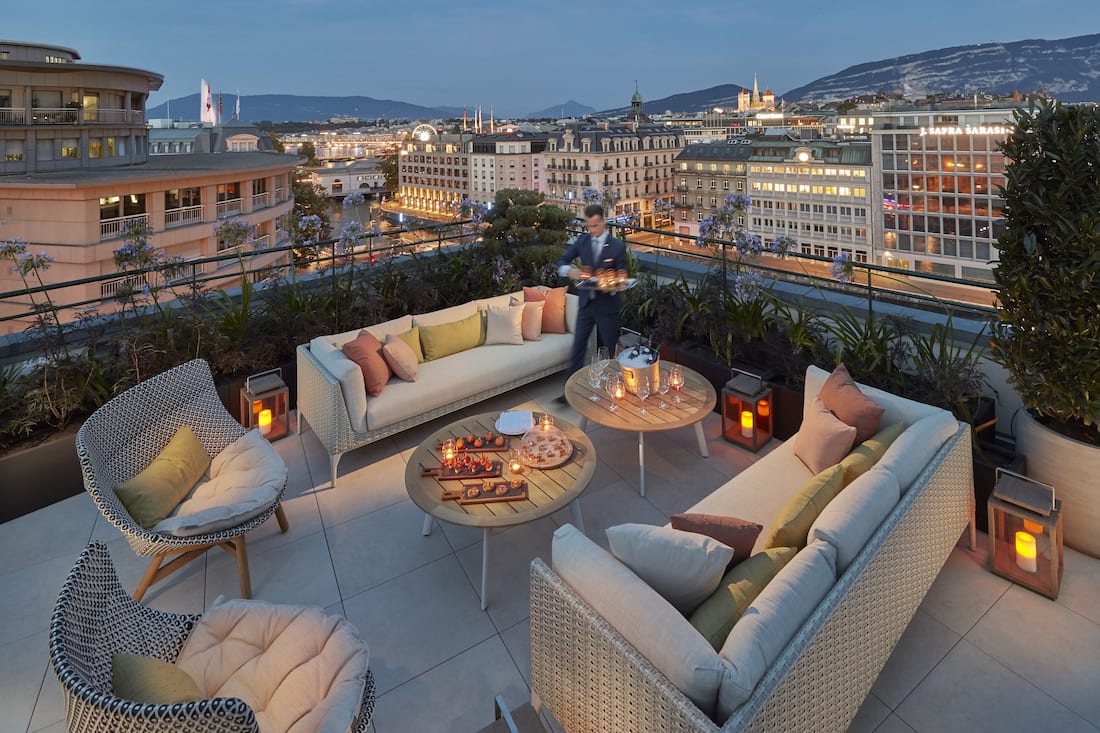 Welcoming guests through a private lift, the Royal Penthouse can accommodate up to six guests and features three elegant bedrooms and modern bathrooms, a bright dining/living space, a kitchen and a large entertainment area.
Spread over 325 sqm, this one-level suite is located on the 7th and highest floor of the hotel, it also showcases a splendid 175 sqm large terrace overlooking snow-capped mountains, the Rhône river and the charming Old Town.
The suite can easily be converted into a one-bedroom suite or connected via a private lift to the 6th floor Royal Suite to form the 577sqm six-bedroom Imperial Residence.
View Virtual Tour.
Mandarin Oriental redefines five-star hotel suite in Geneva
An unparalleled design level
The stunning suite is designed to make the most of the natural light, spectacular view and large terrace. It will offer guests a comfortable, calm and elegant space. Each of the four main areas incorporates the colours and charms of a season." - J Lee Rofkind, founder of BUZ Design
Relax in Luxury
The Living Room
The Living Area echoes the autumn with warm greys, rust orange and hints of gold. Enjoy an abundance of light flooding through the glass doors opening on to a private terrace.
A Private Retreat
The Master Bedroom
The Master Bedroom reflects Spring with carpets picking up the blues of the lake and mountains, and the bright yellow of spring blossoms. Behind the custom-made king size bed, the feature wall adds a subtle Asian touch with silk panels covered in gingko leaves, hand-embroidered in China. In Asia, gingko, one of the oldest known tree species, symbolises longevity and can be found in Geneva's Botanical Garden.
A Space to unwind
The Master Bathroom
The Master Bathroom features a soaking tub for two, an elegant vanity area and a hammam with glass Italian mosaics designed by world-renowned brand SICIS.
Supersize your suite
Connecting Rooms
Summer is mirrored in the two connecting bedrooms, featuring warm, light colours and a relaxed feel. Running the full lengths of the suites, large terraces offer expansive views over the Rhone and the Old Town.
Turn on, Tune In, Hang out
Entertainment Room
Winter is to be found in the Entertainment room. Movie nights, tea times, private cocktails,... The latest technologies are brought to you to relax and make the most of this chilling area.
Unbeatable views
The Terrace
Planned like a home and suitable for entertaining large events, the well-equipped pantry inside the suite can cater to parties and lavish dinners on the terrace. It is the perfect peaceful haven overlooking the Rhône river, the old city and the Alps.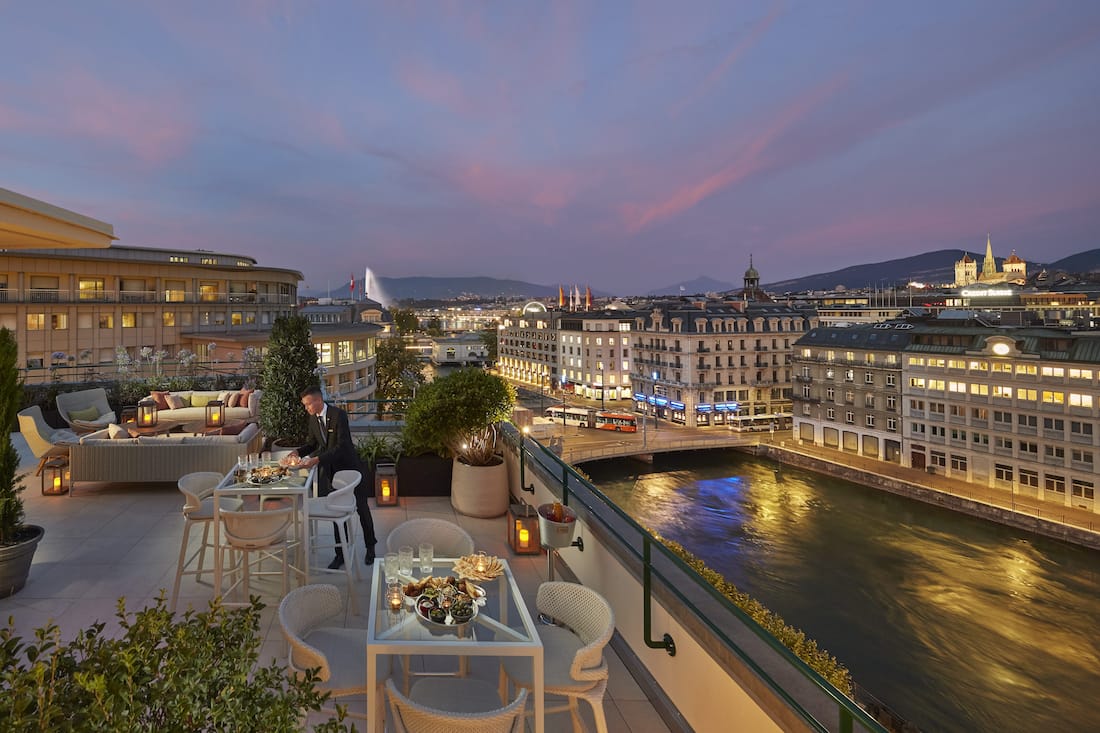 Reserve the Royal Penthouse
For more information and to book a stay in the Royal Penthouse, please call +41 (22) 909 0000 or email hotel.
View All Offers