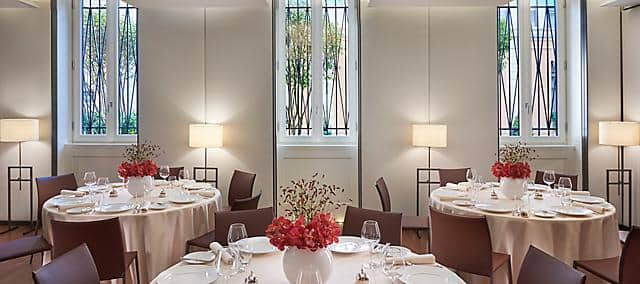 Milan
Facilities
Facilities
Technology and High Design: The Ultimate Backdrop for Seamless Events
The Oriental and Taipan Rooms
Welcoming, flexible and luxurious, the Oriental Room and Taipan Room are the hotel's main function rooms. Located on the ground floor, they are equipped with the latest technology and can be divided into smaller sections with retractable walls as needed. Bathed in natural light, both rooms enjoy oversized windows overlooking one of the hotel's courtyards or Via Monte di Pietà. A neutral colour scheme with oak floors and wall panelling provides you with the opportunity to personalise these intimate spaces.
The Oriental Room can hold up to 70 guests seated or 90 for cocktails, while the Taipan Room's maximum capacity is 50 guests seated and 70 for cocktails. A spacious foyer separates the two rooms and the entire space can be arranged for larger events. For added flexibility, this dedicated events space has its own kitchen.
Mandarin Bar & Bistrot
The heart of the hotel, and the meeting place for Milan's well-heeled, Mandarin Bar & Bistrot transforms from a quiet urban oasis during the day into an atmospheric nightspot every evening. Black and white Italian marble walls and columns help create a unique optical effect, while furnishings including plush seats and sofas, with tables of differing heights adding to the relaxed chic vibe. The bar can be exclusively hired for cocktail parties for up to 200 guests.
Mandarin Bar & Bistrot Courtyard
Situated in the center of the hotel, The Mandarin Bar & Bistrot Courtyard is an elegant outdoor lounge furnished with sofas and bar tables, featuring a relaxed bistro corner serving a delicious all-day dining menu. Available for exclusive hire, the courtyard is the ideal spot for a refreshing spring or summertime al fresco aperitivo.
Lounge
The Lounge area of The Mandarin Bar & Bistrot is an exclusive corner with six-metre high ceilings and expansive windows overlooking the courtyard. Furnished in an individualistic style, it is the perfect place for intimate private events.
Loggia
Located in a hidden corner of the Mandarin Bar Courtyard, the Loggia is available for exclusive private hires. The space features original columns and is the most romantic part of the historical Conte Confalonieri, where the noble history of the building and the modern style of the bar exist in perfect harmony.
Seta Restaurant
Regaled as Milan's best kitchen and helmed by Executive Chef Antonio Guida, two Michelin-starred Seta Restaurant lies adjacent to the hotel's second courtyard. Wide glass windows allow inner and outer spaces to merge into one harmonised whole, while an open kitchen lets you to watch the chefs at work, turning the dining experience into theatre. Seta's timeless design offers year-round inside seating and the option of dining outside in our beautiful courtyard.
Seta Courtyard
Recalling the glorious Milanese past and its noble residences, the atmospheric Seta courtyard is the ideal place for an aperitivo. With the open kitchen set along one side, the courtyard can be enjoyed all year round, thanks to our state-of-the-art retractable ceiling.
Room specifications
FUNCTION ROOMS
FLOOR PLANS
AREA 
sqm
BOARDROOM
CLASSROOM
THEATRE
U-SHAPE
CABARET
RECEPTIONS
ROUNDS
Oriental Room
View
84.3 
34
30
74
30
36
90
60
Oriental A
View
49.7 
16
20
40
20
24
55
40
Oriental B
View
33.3 
10
10
30
10
18
45
24
Taipan
View
57
28
20
40
26
24
60
32
Taipan A
View
28.3 
12
10
20
14
12
25
16
Taipan B
View
28.3 
12
10
20
14
12
25
16
Foyer
View
35 
--
--
--
--
--
20
--
Private Dining Room
View
16 
8
--
--
--
--
--
--
3D Floorplan
--
--
View
--
View
--
--
--
View