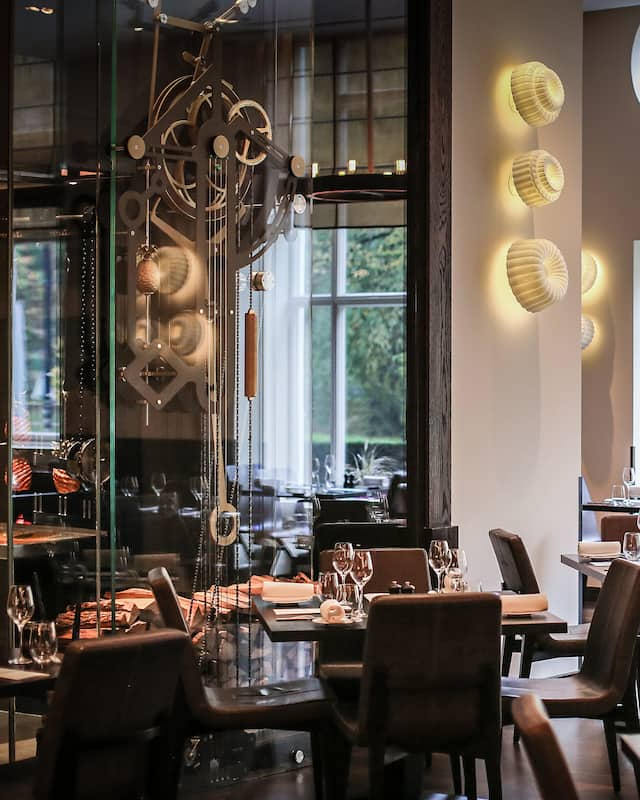 Dinner by Heston Blumenthal
Isn't it time you came to Dinner?
Lunch
12 - 2pm (Mon- Thu)
12 - 2:30pm (Fri- Sun)
Dinner
6 - 9pm (Mon- Thu)
6 - 9:30pm (Fri- Sun)
For information, please email molon-dinnerhb@mohg.com.
"It is never easy naming a restaurant. On this occasion, I wanted something that represented our menu that is inspired by historic British gastronomy, so I searched for a name that had a bit of history, but was also fun.
In the past, the main meal – dinner – was eaten at midday, before it got too dark. But affordable candles and, later, gaslight saw dinner shift. By the mid-1800s people were dining later. People working in the cities were taking a 'lunch' to work and having their main meal at 5.00pm when they got home, while in rural areas the main meal was still taken at midday.
Even today, depending where you are in the British Isles, 'dinner' might be served at lunchtime, suppertime or, indeed, dinnertime!
This made 'Dinner' the natural choice for its typically British quirky history and linguistic playfulness. If nothing else, I hope it's easy to remember."
- Heston Blumenthal
The History of Dinner
Inspired by Heston Blumenthal's fascination with historic gastronomy, Dinner is one of the world's most celebrated restaurants. First conceived in the late 1990s, the idea for Dinner sprung from Heston's fascination with the savoury ice creams of the late 1800s, the theatre of the Tudor dining experience and the dishes featured in Lewis Carroll's Alice's Adventures in Wonderland.
Through his research, Heston realised that obsession with food is no modern day phenomena, he worked with food historians and the team at Hampton Court Palace, as well as reading cookbooks such as those by the royal chefs of King Richard II. The result is Dinner's thrilling menu, which perfectly fuses the historic with the contemporary in a uniquely exciting manner.
Providing the ideal backdrop to the menu, the restaurant's interior is contemporary and innovative, yet mindful of tradition. Through floor-to-ceiling glass walls, diners enjoy a view of the kitchen and its unique pulley system, which has been modelled after a version used by the Royal court, and rotates the spit over an open fire. Ivory-painted walls are decorated with custom-made porcelain wall sconces in the shape of antique jelly moulds and, of course, the uninterrupted views of Hyde Park, King Henry VIII's former hunting grounds, bring the historical connection full circle.
- For any restaurant reservations, please note that the reservations terms and conditions will apply.
- Fans of M.O. members enjoy additional dining benefits. Join Fans of M.O. Now
By making a booking or otherwise using the restaurant services, you confirm your agreement to MOHG's Privacy Policy and you consent to the processing of your personal information by MOHG, including the collection, retention and usage of your name, contact details, other personal information (which may include sensitive data, e.g. medical conditions), transaction data and demographics ("PI") in order for MOHG to provide you with the requested services. You have the right to request access to, correction and deletion of, and withdrawal of your consent to processing of, your PI by contacting MOHG's Data Privacy Officer by email at dataprivacyofficer@mohg.com or by post at 8th Floor, One Island East, Taikoo Place, 18 Westlands Road, Quarry Bay, Hong Kong. Any PI you supply is voluntary but if you choose not to supply your PI then you may not be able to access or obtain the services requested. For the purposes of providing you with such services, MOHG will share your PI with MOHG's global network of companies and the service providers that assist MOHG with administering your PI, which may be transferred to, processed in and stored at a country outside your country of residence (including outside the EU/EEA). For any online reservations, please note that a third party vendor's applicable terms will apply.
Exclusive Dining Benefits

Become a Fan of M.O. and make your next dining experience at Mandarin Oriental even better with exclusive benefits that are sure to delight and surprise.